Search Feature Updates
February 10, 2022
WCPM Continues Making Searches Easier
Warner Chappell Production Music has transformed ongoing client feedback into brand new features on warnerchappellpm.com. Check out new updates that will make your searches easier and more efficient!
Quick Share – Users now have a quick way to generate a link to a Track, Album or Playlist. Simply click the Share icon on a Track, Album or Playlist page and choose "Copy to Clipboard". This feature is also available by clicking the "three dots" icon to the right of a Playlist in the Playlist Sidebar.
Album Number Updates - When hovering over artwork, the album number is now visible and clickable. Click through to visit the entire Album. Album number and track number are now also visible and clickable next to the album title in track listings.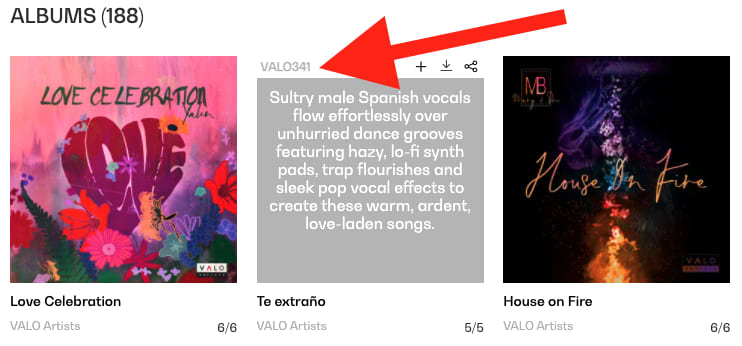 Child Track Direct Link – Users can now link directly to a child track (an alternate or cut down version of the main or full mix).
Playlist Track Delete – Users may delete one or more (multi-selected) tracks from the Playlist Sidebar with Delete key on keyboard. Simply shift+click or alt/control+click to select multiple Tracks, Playlists, and Folders from the Playlist Sidebar, then hit the Delete button on your keyboard to delete them (you'll be prompted for a confirmation to prevent accidental deletion).
Download Directly from Playlist Sidebar – Click on the three dots next to any Track or Playlist in the Playlist Sidebar and choose Download.
Search and Click Metadata - All metadata on Track and Album pages is now clickable and searchable.
New Search Tips - From the Search Within dropdown, users can click the "Search Tips" button to view additional tips to refine the search process.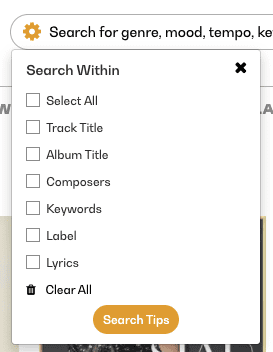 Composer & Publisher IPIs – Composer & Publisher IPIs are now available in the Track Metadata (information) dropdown.
Previous updates to the site are outlined here.