PRIDE: Boy Jr.
June 9, 2022
Happy PRIDE, everyone! WCPM sat down with NY pop phenom Boy Jr. to talk TikTok, inspiration, relationships, gender roles and the new album SHEESH!, produced by mastermind Steve Wilmot (OneRepublic, U2, Shawn Mendes). This exuberant, electro-pop-punk sundae of frenetic beats and shimmering trap highlights Jr.'s saucy, charged vocals and punchy lyrics empowering the LGBTQ+ community and embracing the very things that make us each unique.
We're loving your brand-new WCPM release, SHEESH! Tell us a bit about how the project came to be.
Thank you a ton! I was introduced to WCPM by a mutual friend. When they told me about the potential to do a project with a millennial angst pop vibe, I was psyched! I had very recently been broken up with and was quite emotional about it at the time. So I was ready to funnel my energy into this new project!
SHEESH! pulls from house music, rock, alternative… but it's an undeniable pop record with punk edge. What does POP mean to you and who do you admire in the space?
Pop can be so many things now, which I love. I feel that pop music is really about structure, but even that allows for a lot of room to play. I'm very keen on experimentation in music, especially in genres with previously rigid boundaries. I love Charli XCX, Lil Nas X, Rina Sawayama, St. Vincent, Tune-Yards, Deerhoof, Sky Ferreira, The 1975, and if I don't stop writing right now, this will become the longest answer in the interview haha!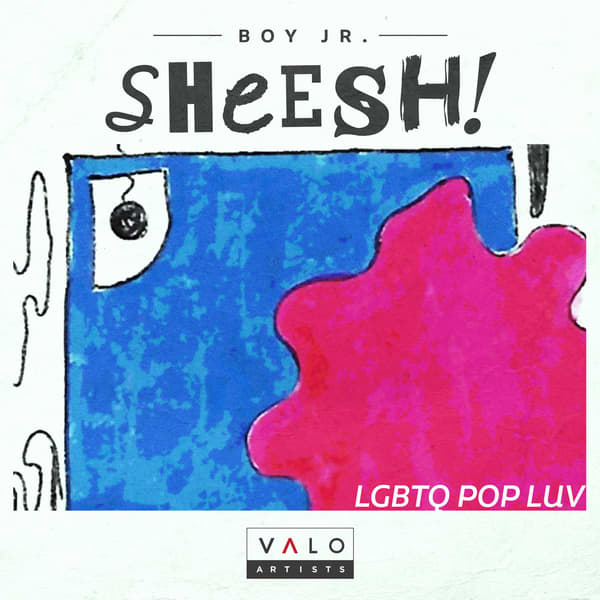 SHEESH! touches on many different parts of relationships, from attraction and hookups to breaking up and moving on. If you listen, it's clear you've been through it and out the other side with this empowering music! What's your advice for our readers who are dating?
Take your time. Build multiple castles at once. Which is something a friend said to me, meaning keep the momentum and energy going into multiple facets of your life. Build your passions and friendships and education alongside a relationship, cuz if one of those castles gets knocked over, you'll have others you can go to for shelter, still.
Favorite song?
You're a TikTok boss. What about that platform speaks to you? What was your first post that really took off? Any must-follows we should know about?
The thing that really drew me to making short-form videos was the lower barrier to entry compared to something like Youtube. Having an outlet like TikTok has allowed for a lot more of my ideas to come to fruition instead of living and dying in my notes app because I don't have the time or interest to make them into full-length videos or songs. Plus I've made a lot of really important friendships through the app! The first post that really took off was the one that lead to Suck My Finger Again (link) becoming a full song. I captioned it "this is my impression of indie pop that you hear in coming of age movies and commercials" or something like that, aiming for a COIN/ Bleachers/ Carly Rae Jepsen sound. It was the first time people asked me to make a full version of something on the app, and the first video that got over 0K views, so I was like okay I must answer to the people. Now "Suck My Finger Again" is one of my faves to play live! Must follows are Skatune Network, Evan Diem, Two Tree Hill, Grace Hayes, Its Keyes, Max Boonch, Alex Engelberg, With Love August, and once again if I keep typing, this portion of the interview will take up an entire page.
Happy Pride! Do you have any fun stories from years past you can share? Plans for this month's celebrations?
So, the Rochester, NY pride celebration actually takes place in July, and I'll be on tour this summer! So I'll just be celebrating from the stage I guess!!
Some of your lyrics absolutely smash traditional gender roles and can be helpful for people struggling to find a way to fit in. Do you see yourself as a role model within the larger movement and cultural shift towards accepting gender fluidity, or more so as an individual speaking their own truth? Or both!
Definitely see myself more as an individual speaking on my own feelings. But I'd hope that by using music as a means of expressing these feelings, it can reach ears who relate, and maybe tap into their own time and place to explore and express similar feelings!
You worked closely with Steve Wilmot who has produced and co-written for One Republic for this EP - what was that experience like?
It was fantastic. Besides just being a great personality to hang with, Steve's ear, skills, and willingness to explore allowed for me to take the music in any starting direction I wanted to experiment with, knowing it would only be elevated by the time it passed through his studio.
Tell us about the cover art you played a big part in!
I've found I really enjoy drawing as another creative outlet and stress release. I like just playing around with shapes, color schemes, and lines. When it came time to find fitting artwork for SHEESH (which didn't yet have that title), I sent over some recent drawings I'd done and WCPM mentioned really liking the one that included the handwritten word "sheesh"! And thus, it all came to be!
What else have you been working on?
I have an entirely self-produced album of my own coming out on June 24th called Pay Attention To Meee! It's my first totally original full-length release and I'm extremely excited to share it!