Focus On...Mark Lonsway
May 9, 2022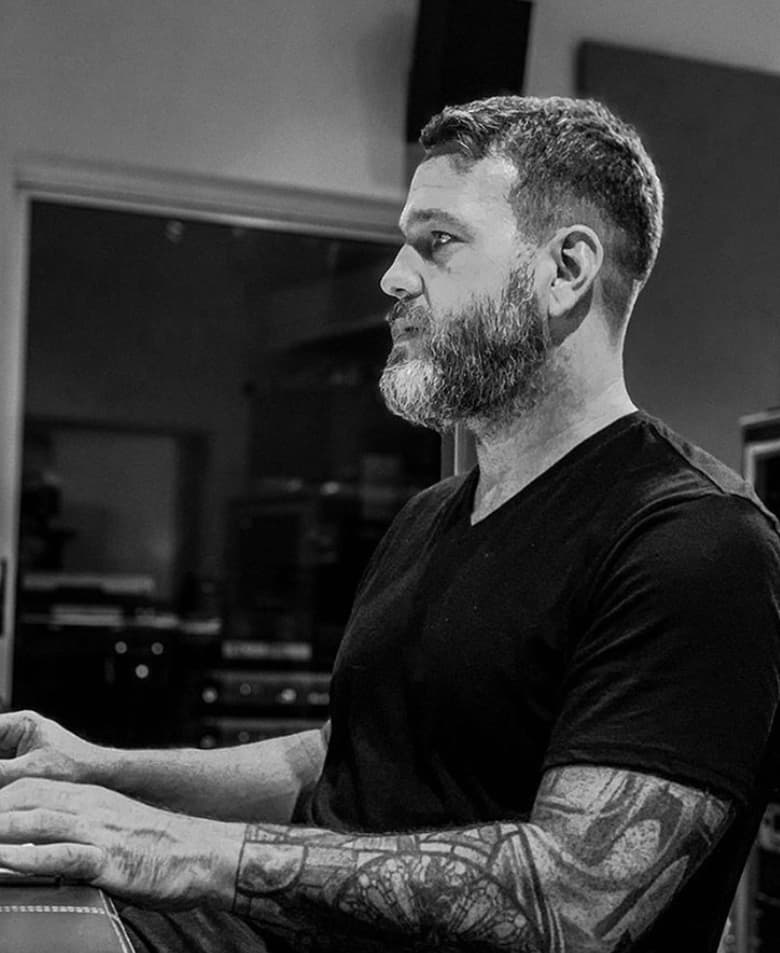 Meet Mark Lonsway, Sr. Audio Engineer at WCPM's Nashville studio Sandtrack Sound. One might argue that Mark's day-to-day is more exciting than most - from recording strings to brass to hip hop vocals, Catalog to Custom to News and Voiceover, Mark has a hand in much of the audio that is released out of Sandtrack Sound. We sat down to discuss life in the studio, his love of performing and some of his most memorable production music projects to date.
What does your day-to-day look like at Sandtrack Sound?
One of the things I love about what I do here at Sandtrack is that there really isn't a typical "day-to-day." My main gig is mixing in one form or another, but depending on what I'm working on, everything that goes into it changes. WCPM creates just about every genre of music that you can think of; if we find one that we haven't tackled yet, you can bet that it will likely show up in the production schedule sooner rather than later.
My main goals are making sure that every single piece of music that leaves this studio is sonically the best that it can be and as authentic to the genre as possible. We put a lot of time and research into making sure both happen. On top of mixing, we also do quite a bit of on-site tracking which keeps things fun and interesting.
Talk to us about a production music project that sticks with you.
There are two that come to mind right away.
The first is one that I wasn't even the tracking engineer on. Our first several orchestral Scoring Stage releases were a huge undertaking for us as a production team. Any time you record a full orchestra with brass, strings and percussion simultaneously, you've got yourself a challenge. We recorded over 50 songs utilizing 65+ musicians, with a 3-day tracking window. Aaron Gant (SVP, Production) and I put everything together. Our team was smaller then, so each of us had a long list of "to do's."
For those first few releases, my role was to help prepare all of the session elements beforehand - making sure we had all pre-recorded stems prepped, creating click tracks, making sure bars and beats matched the timing on the actual scores, making sure the Pro Tools sessions were at the correct specs and working correctly and helping set up the floor for the actual session.
It's the simple things that can slow you down - something as seemingly insignificant as not having a pencil on the music stand or a music stand light issue can cause loss of time and money while a large number of musicians are waiting, so it's a bit of a creative pressure cooker until things actually get rolling and music starts getting made.
Even then, Aaron was a well-seasoned engineer with a lot of experience recording orchestra, but I had never worked on a project of that scale. To hear a finished orchestral project you had a hand in creating is unbelievably rewarding.
The second project that comes to mind is completely at the other end of the spectrum. I've been lucky to be selected as a writer on some of our releases, including a rock/metal catalog release called "Hard and Heavy Rock." As with most audio engineers, my personal taste in music is all over the place and as a working guitar player and background singer in Nashville who backs up mostly country artists, any chance I get to work on a heavy rock project leaves me beyond ecstatic!
This project was one where I got to stretch my legs both as an audio engineer and as a player. I even bought new amplifiers and guitars specifically for this release so the sound would be authentic to the style. Nashville is often stereotyped as a country music town, but what a lot of people don't know is that we also have a very vibrant rock and metal scene. I loved working on this project as it allowed me to play and explore a genre that I'm a HUGE fan of and work with some of the extremely talented rock musicians that Nashville has to offer.
How does your own musical career influence your work at WCPM?
One of the things I pride myself on is the ability to "cast" a musical role. I've worked with a lot of musicians and singers over the years and my network is pretty large. When someone asks me to find a singer or musician that can authentically create or perform a specific style or genre, I'm good at matching talent to that request.
As I get asked to work on different projects on a personal level, I'm exposed to what's current and trending and who's working on what. A lot of the writers, players and producers that we work with at Sandtrack have been found by chance collaborations that I was lucky to be a part of outside of WCPM.
How do you keep yourself inspired/what inspires you?
I love music. I always have, and music itself keeps me inspired to create more. While I've been a professional audio engineer since I graduated college and a musician all my life. The hunt for new sounds, fresh musical ideas, challenging parts or even simple parts that create emotion inspires me. Add a fascination for the technological side of music and there is never a shortage of things to be inspired by. When I find something new and inspiring, I tend to get obsessed with it and consume myself with implementing it or finding a new way to use it.
What are you listening to right now?
Like I said earlier, my musical taste is super varied. My most listened-to genre currently is Americana singer-songwriter. I'm a total melody and harmony nerd and a big fan of artistic lyrics. A few artists in heavy rotation for me right now are Holly Humberstone, Ruston Kelly, Foy Vance, Sasha Sloan, Noah Gundersen, Maggie Rogers, Bon Iver and Julia Michaels to name a few.
A serious song shuffle on my phone would take you down a lot of rabbit holes where you might hear Dua Lipa followed by Wage War, Chris Tomlin, Doja Cat, Kasey Musgraves, Dr. Dre, Bring Me the Horizon, Indigo Girls, Royal Blood and John Denver - a true "Heaven and Hell" music playlist.